How does time shape our lives?
It's about time that we explored this powerful theme!
Time is undeniably a personal affair. We are all given the same 24 hours in a day, but this is not always enough. Not even the 21st century inventions, technology or science can make time, pause it or stop it – or, so we think.
TEDWomen 2016 will explore time zones, time travel, time outs and times together. It will also explore the conventions and challenges of time. Hard questions will be put on the table. Because it's about time to find long-term solutions to climate change, poverty, immigration, violence, race, gender and economic inequities. There will be over 240 TEDx events around the world- including one in Nicosia, Cyprus – sharing the livestream and presenting local speakers around the theme "It's About Time." The result? To reveal the spark that inspires innovation through a global conversation — from San Francisco to Sao Paolo and London to Nicosia — celebrating movers and makers, local problem solvers and global leaders.
TEDxNicosiaWomen 2016 will rejoice in the true essence of women through a platform of ideas, stories and solutions that impact our local community and initiate change. It will explore how time and attention shape our lives, as well as ways that we can mold time. It will intrigue people to see that the time has come for an action, a decision, a new venture, a collective initiative… from scientists, artists, creators, entrepreneurs to loving mothers, women carry the inspiration, dedication, empowerment and motivation it takes to be the creators of local solutions, and leaders of worldwide movements.
As part of the TEDx spirit and community, TEDxNicosiaWomen will be featuring part of the webcast of TEDWomen 2016, which will take place in San Francisco, California. On Thursday, October 27, the TEDxNicosiaWomen event will be combining two sessions – a direct livestream from the TEDWomen stage with talks being viewed for the first time in our public domain, and a session with local speakers and performers. The powerful ideas to be revealed promise an unforgettable global experience.
Meanwhile, we challenge you to take the time to change, to grow, to read and listen.
And to ask yourself: It's about time that I ………….?
Save the date – October 27, 2016 – and keep watching this space for further updates.

Location
Cyta Amphitheatre,
Cyta Headquarters
Telecommunications Str.,
Nicosia, CY-1396
Cyprus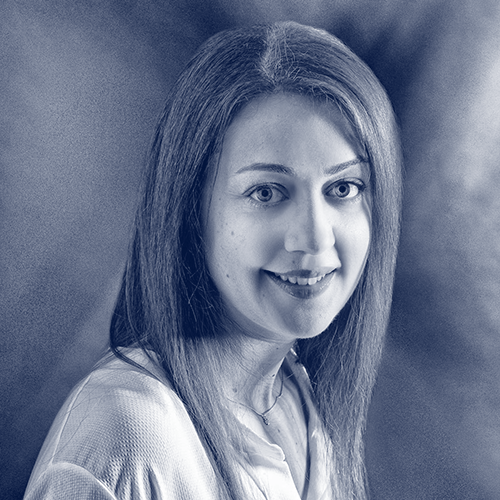 Andrea Solomonides
With an insatiable passion in music, politics, business and entrepreneurship, Andrea is often hailed as the most sociable loner on Planet Earth. Her passion, fueled by her knowledge and the sheer need to constantly share this, coupled with unaccountable projects and participations in countless domains of life, makes Andrea a hopeless romantic, often painted by the grim colours of superficial cynicism. She only dusts this off when travelling, preferably in far-away lands.
Andrea recently embarked on a three-week, 8,000 km journey through China, Russia and Mongolia with the Asia-Europe Foundation Summer University, where 47 participants challenged and aimed to improve the conventional ways the two continents are connected by land, air and sea.
Andrea is a communication, branding and online marketing expert. She's the Co-Founder of Cubik-S Communications. Her portfolio includes projects on Political Campaign Management as well as Business Development. She's also the founder of Incubo Strategies, a Strategic Management and Entrepreneurship Consultancy and a co-founder of Cypriot Enterprise Link.
Follow her on Twitter @AndySols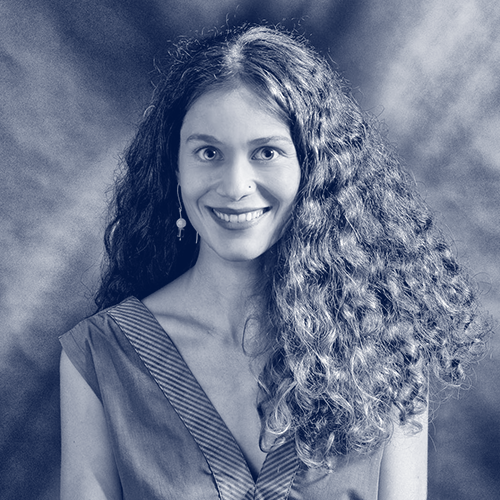 Marina Katsari
Storyteller & Drama Practitioner Marina notes: "Since I remember myself, I recall stories and fairy tales. I was born on the island of Cyprus where myths and exaggeration are an integral part of the daily life of its residents. I spent the first two years of my life on the land of the Arab storytellers, in Oman, as my family followed my father who used to tell us that, as an engineer, he was installing air conditioning in a great Sultan's Palace. Thereafter, somewhere along the black and white chess board of Nicosia, a city of opponent kings, rooks and pawns, I "grew up'' and found out as much as I could about the little ones as an early years teacher. I then received a strange call from the English woods, where I went to learn the art of educational drama and theatre. The Centaurs of Thessalia then invited me and initiated me into the art of storytellers. I march with this, so far. Body, word and voice stand in front of me at every turning. I learned to explain the world in this way, as well as share the mystery at schools, universities, museums, festivals and where ever else the path of tales leads me."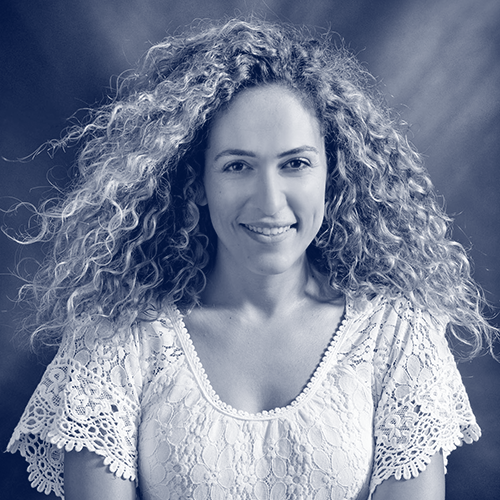 Louiza Sophocleous
Curious by nature, Louiza studied Applied Mathematics and Physical Sciences in quest for a better understanding of the world surrounding us. She then pursued a Master's degree in Biomedical Engineering in an effort to better comprehend the application of mechanical, physical and mathematical principles to biology and medicine. Her wondrous journey of knowledge continues today as she pursues her PhD, still trying to understand the world whilst spreading her love for the magical world of science to others through teaching.
In 2015, Louiza was the national winner of FameLab, an international competition for science communicators, and she has since found a particular way to express herself through science communication. Since then, she has taken part in various science communication events and activities. When she is not glued on a computer screen, Louiza attempts to be a dog trainer, but her ridiculously naughty dog doesn't support this endeavour of discipline! Louiza enjoys talking with creatures – not necessarily humanoids – in search for useless (for many) information.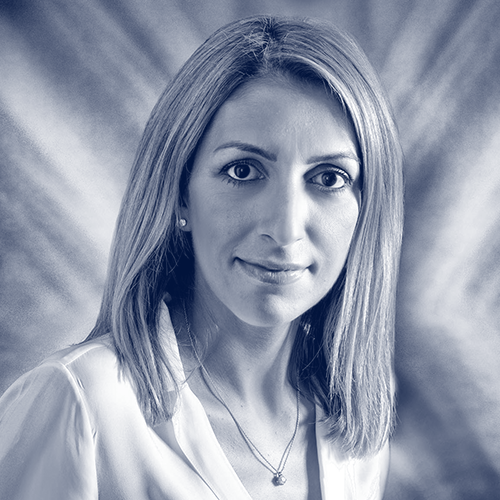 Alexia Pissarides
Alexia is a dancer, visual artist and creative producer. Her strong inclination towards dance and the creative arts led her to the prestigious Tring Park of the Performing Arts in England at the age of 14. There, she received her teaching certificate in Classical Ballet and Modern Dance, and thereafter founded and ran her own dance school in Cyprus. Following 10 creative years at Alexia's School of Dance, she decided to shift her focus on her growing family, yet not away from her passion.
In 2011, Alexia started a new concept of workshops in cooperation with successful artists from the West End and other top UK performers. Workshops with renowned names such as Dax O'Callaghan (West end Performer, Choreographer), Layla Ellison (Leading dancer for Top Chart Artists), Lucas Mc Farnell (winner of 2015 Britain You Got Talent) and Ryan Jenkins (West end Performer, Choreographer, Founder of ID Dance) were met with incredible success, paving the way to offer remarkable opportunities to dancers in Cyprus.
Alexia has also acted as producer and event manager with prominent artists and musicians, including Soprano Aliki Chrysochou and Maestro Yiannis Hadjiloizou. Alexia views art as a form of creative expression and, through her installation work, she embarks on a journey from discovering to caring, re-decorating and skillfully blending the old with the new. Alexia has been a member of the Board of Directors of DanceCyprus and an active supporter of Young Volunteers Cyprus.
She is married to Omiros Pissarides and together they have three children.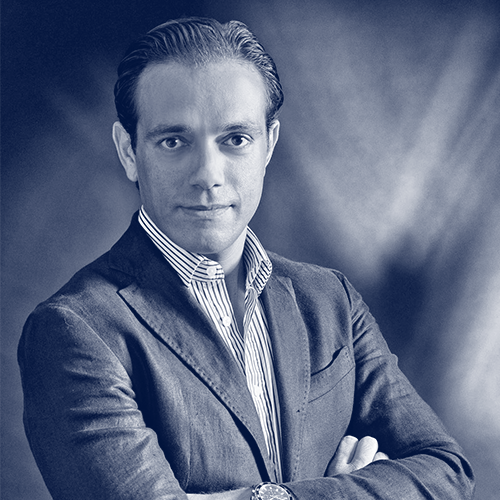 Dr. Andreas Stavroulis
'It's about time to know all your options.' Dr. Andreas Stavroulis looks at his patients in the eye and smiles when he says this. Because he fervently believes it.
A Medical Doctor who graduated from Semmelweis University of Medicine in Budapest, Dr. Stavroulis spent 14 years in London, U.K. where he completed his training in Obstetrics and Gynaecology and became a Member of the Royal College of Obstetricians and Gynaecologists (MRCOG). He was honoured with accreditation in Advanced Laparoscopic Gynaecologic Surgery, management of Endometriosis, Reproductive Medicine and treatment of Infertility. Dr. Stavroulis maintains fellowship at University College London Hospitals NHS Foundation Trust. In Cyprus, he works as a Consultant Obstetrician and Gynaecologist, Minimal Invasive Surgeon, Specialist in Endometriosis and Fertility (IVF) in the American Medical Centre in Nicosia, the Mother and Child Medical Centre in Nicosia and Ygia Polyclinic Private Hospital in Limassol. He is the founder and leader of the Endometriosis Centre in Cyprus and a promoter of natural maternity.
He is also a lecturer in St George's Medical University in Nicosia, a trainer in laparoscopic surgery and fertility and presents in national and international conferences.
A happy family man, he is enjoying his three women of his life- wife and two daughters- and expecting his son. In his limited free time, he exercises and reads books. His mission in life is to dream big, work hard, stay focused and be surrounded by quality people.
About TEDx, x = independently organized event
In the spirit of ideas worth spreading, TEDx is a program of local, self-organized events that bring people together to share a TED-like experience. At a TEDx event, TED Talks video and live speakers combine to spark deep discussion and connection. These local, self-organized events are branded TEDx, where x = independently organized TED event. The TED Conference provides general guidance for the TEDx program, but individual TEDx events are self-organized (subject to certain rules and regulations.) 
About TED
TED is a nonprofit organization devoted to Ideas Worth Spreading. Started as a four-day conference in California 30 years ago, TED has grown to support its mission with multiple initiatives. The two annual TED Conferences invite the world's leading thinkers and doers to speak for 18 minutes or less. Many of these talks are then made available, free, at TED.com. TED speakers have included Bill Gates, Jane Goodall, Elizabeth Gilbert, Sir Richard Branson, Nandan Nilekani, Philippe Starck, Ngozi Okonjo-Iweala, Sal Khan and Daniel Kahneman.
The annual TED Conference takes place each spring in Vancouver, British Columbia. TED's media initiatives include TED.com, where new TED Talks are posted daily; the Open Translation Project, which provides subtitles and interactive transcripts as well as translations from volunteers worldwide; the educational initiative TED-Ed. TED has established the annual TED Prize, where exceptional individuals with a wish to change the world get help translating their wishes into action; TEDx, which supports individuals or groups in hosting local, self- organized TED-style events around the world, and the TED Fellows program, helping world-changing innovators from around the globe to amplify the impact of their remarkable projects and activities.
Follow TED on Twitter at http://twitter.com/TEDTalks, or on Facebook at http://www.facebook.com/TED.